I don't really own many shorts and most of the ones I do have are quite short and I don't feel comfortable wearing them any more. Its incredibly hard to find nice shorts that are long without being too old fashion and dorky. So when I was looking to make some summery outfits to take to Hawaii I decided to give these
BurdaStyle Pleated shorts
a go.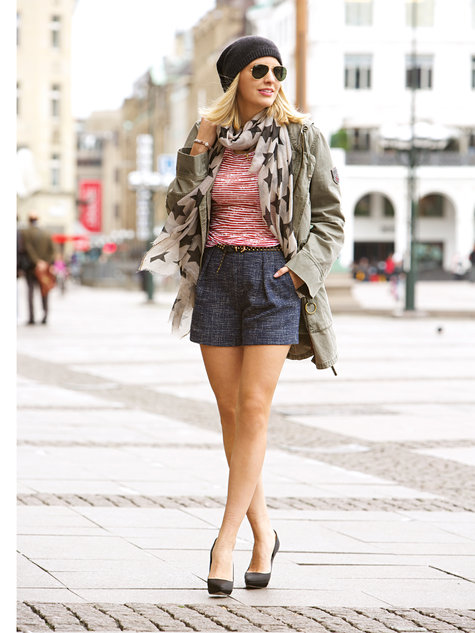 There are a few reasons why I chose these shorts in particular. They were pleated at the front which I have found suits my body shape, they have a side zip so I didn't have to be too picky learning to master the front fly and the pattern is actually for pants as well so I was able to make them a bit longer according to the pattern. I am so happy I chose this pattern! I loved the way it turned out and for the first time I actually like wearing shorts!! I was so excited to have some new shorts for Hawaii I ended up making about 5 pairs in little under 2 weeks.
I wasn't sure about these shorts if they looked like pyjamas? Let me know what you think!
Pair 2 - Black Denim Pair.
I was able to wear this pair to my casual Friday at work and they were so comfortable.
Pair 3 - Blue Denim
My favourite pair so far!
Pair 4 - Blue Lightweight Denim
These were the first pants I made as the tester pair. Excuse my droopy eyes it was so hard to take photos this day as it was very windy haha.
The Pattern
This pattern is so easy and I highly recommend to anyone wanting a fun and easy sewing project.
There is only a small number of pattern pieces and I was able to make most of these shorts in under 2.5 hours (with all of the hand stitching).
My favourite pairs were the heavier denim so I recommend using this type of material.
The cost of each pair was under $20 (with the really good quality denim too).
Now all I have to make is a few more lightweight tops and I am set for my honeymoon in Hawaii!!
❤ ❤ ❤ Erin ❤ ❤ ❤