So it's been a really busy last couple of weeks (back at work, trip to Melbourne and trying to create my next project). I went to
Rathdowne Fabric
and
Darn Cheap Fabric
when I was in Melbourne and I got so much great printed fabric, mostly all in Cotton Sateen. The only problem is, when I get so much fabric I tend to get a overwhelmed with what to work on next.
I have a huge stash of patterns but I wasn't in the mood to trace one out so I looked at BurdaStyle.com because to me, it seems easier to just print and cut out the paper. Therefore, I ended up buying
pattern #120
shown below.
BurdaStyle #120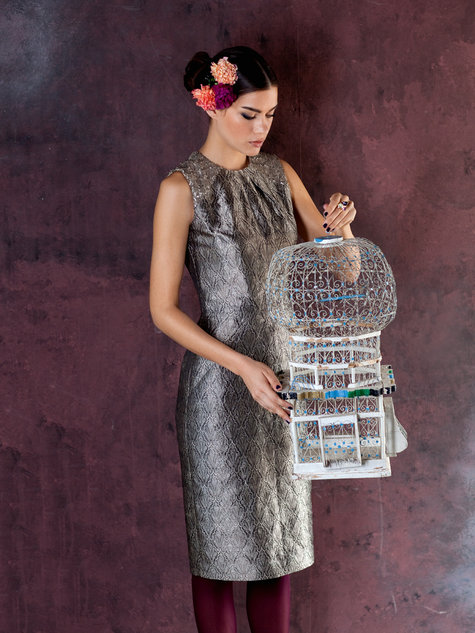 This pattern looked awesome and I liked the detail in the top. I knew it was a sleeveless pattern and as you probably already know I don't really like sleeveless dresses. Then low and behold, the pattern came with these really great fitting sleeves!
Burda, you're amazin
g. I was so excited after I printed it that I didn't even have to try and work that one out. Gotta love it when that happens.
After I made the first dress I figured I loved the top but it might look better with a pleated skirt?
Then after looking at the design I realised this dress is very similar to a dress from Cue that I had in my wishlist. Check out the
blue dress
on the dress category main screen it's so similar to the top of this pattern.
So here is my next make and it had a lot to do with the dress above. This then gave me an idea to make a Copy Cat Challenge on my blog for those who might have an item of clothing you have always wanted, but figured it would be easier to make!
Close up of the front
So I guess my outcome was that I loved this pattern. At first I didn't like how tight fitting the bottom was (shown in the top brown and black dress). I had to re-cut the bottom because the size I cut was too small and in doing this I ended up taking off the back triangle at each side. I supposed it turned out okay after the alterations and is wearable. However, if I was to make it again I would definitely be doing the pleated skirt version instead.
I didn't even touch my fabric from Melbourne because I'm too scared to use it. I want to make sure when I do use it, it will be for the perfect outfit.
The other thing I did in Melbourne was meet up with Neeno from
Sew Me Love
!! She is just such an adorable and sweet girl. It was so lovely to meet her, have a good laugh at our blogs and swap sewing stories. It sucks that she's so far away because I would definitely like to catch up with her more often. At least it's an excuse to go back for another holiday!