So I did a bit of blog stalking this week to try and find an nice work dress that would suit my shape. Here a couple of version that sold me on this style of dress..
So here is my version of the Burda 7494 dress.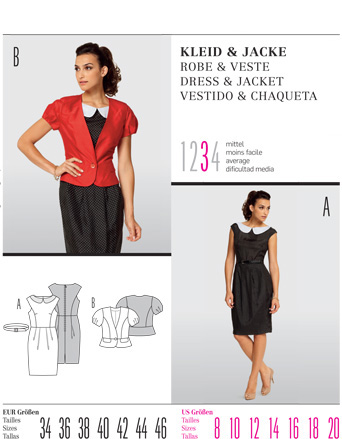 Pattern Photo
These Burda Style patterns are fantastic easy to follow and a very easy to construct. I was amazed at how nicely it all came together for this dress.
I loved everything about this dress. The peter pan collar is really great (hopefully you can see it in the photos above as its the same colour as the dress), and so easy to construct onto the dress. There are some really cute pleats on the front and back. I keep finding myself going to put my hands in my pockets (which aren't there) so maybe next time I might add some pockets. This dress also looks nice with or without a belt!
This dress is Cotton Sateen from Spotlight. I tried to add a lining for the skirt from a plain lightweight polyester but because the outside was a stretch material the lining ended up being smaller and didn't match the skirt. So I left it off and it still turned out fine.
No pattern alterations, only to add pockets on the next versions would be cute.
I would definitely sew this version again and hopefully sometime soon! It ended up being a flattering style to suit my body shape and a perfect dress for work.
This is what it looked liked from the bottom hehe.
On a really funny note does anyone here have a Pinterest account where you pin creative things or food you want to create? Has anyone attempted to make these things? Here is a "Nailed It" photo gallery of some versions which put me in tears with laughter. You have to check this out!
Funny Crafty DIY Photo Gallery
I have lots more reviews coming so I am slowly trying to add them up after actually spending some time on jazzing up my blog. I hope you enjoy and I would love to hear your comments!!
♥♥♥♥ From Erin ♥♥♥♥