Pattern Photo: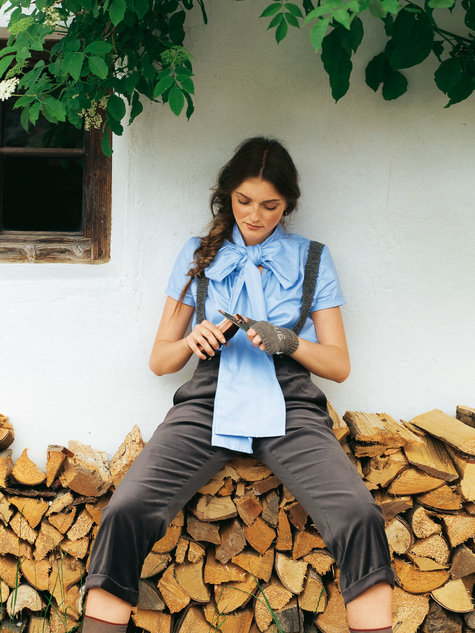 Photos:
This
pattern
was very simple, easy and quick to make. The Burda instructions stumped me on the front slit facing but I found this
tutorial
which was extremely helpful. Otherwise, it was straight forward and came out looking like the pattern picture.
You can wear this type of shirt to work with a skirt or just casually over jeans. It's a baggy fit so no need to worry about it being too tight or clingy. Plus, the bow front makes it so girly and cute.
Material
Each shirt was made with 100% Cotton.
Shirt Construction
I think the pattern tells you to make the bow part
really big
. My bow was only half that width (18cm). I recommend checking the bow size and just making sure you are happy with that outcome before cutting it out.
After making the first one I also reduced the front slit facing from 23cm long to about 15cm long. I didn't think it needed to be that long as the shirt was a pretty baggy. Plus, you can get it over your head without the long front slit.
Finally, I also made the shirt a little bit longer so I could wear it over jeans. I found the first one I made was a little too short for my liking but that one I could wear with a high-waisted skirt.
Here are some more picys.
Front Bow
Front Bow
Front View
Side View
Polka Dot Navy/White Shirt Front View
Side View
Oh I can't forget a puggy picture taken a little while ago :) This is my baby.
Happy Sewing!!